Teens Sections – Book Reviews by Teens
Book Reviews for Teens by Teens! Have you read something really fantastic, and want to share your opinion? Or maybe you've read something awful, and want to tell people about that? Well now you can! Reach out to Kimberly Iacucci to learn how  you can send in  your own book review to be featured on our website! You can even earn community service hours for your contributions.
Email:
kimberly.iacucci@fortlee.bccls.org
with your book reviews.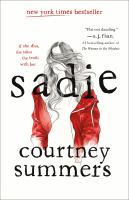 Sadie by Courtney Summers Sadie by Courtney Summers was fantastic! This young adult mystery suspense novel follows a teenage girl named Sadie whos life has never been the easiest. She grew up on her own and tried her best to raise her younger sister Mattie on her own....
read more